News
Facebook
AFMetalsmith now has a Facebook page. I will try to keep it updated with various bits about my work- including photos of the installation of Fabio (see below). If you're on FB, pay a visit, and fan the page if you like. :)
(I also have a metalworking blog on LiveJournal and on DreamWidth, if you're a blog reader. You don't need to read both, they're the same, and both are public.)
Fabio is here!
"Fabio" is the name of my new, spendid rolling mill. It is probably the best one in the world, and I have been hankering after it for many years now, and I am just thrilled to finally have it (him?) in my life. I decided to name him (it?) Fabio because of its fabulousness, and also because it's a sturdy, brawny lad, though admittedly lacking in the long, flowing blond mane department.
Earlier
As Seen on TV!
My stone-set Mobius ring, similar to the one above, is appearing in the CBS TV show "Numb3rs". The date I have is May 22, 2009, but therre was a glimpse of it at the end of the previous episode, as an engagement ring.
I am so excited about this!!!!
My Plique-a jour Smiley Pendant is in the recently-published Lark Book "500 Enameled Objects," on page 148. This is a fabulous book in a really superb series that I find very inspiring, and I am thrilled to have been included in this volume of it!
New Content!
Good news! We now have the ability to engrave rings, inside and (in theory) out.
Earth-friendly metals and conflict-free stones
All of the gold and most of the silver I use in my work is recycled. I buy it from refiners like Hoover & Strong, who sell only metals refined from other metals, not from mined ores. Similarly, most of my stones are bought from stone dealers that do not trade in conflict diamonds, and who are committed to offering fair prices to the people involved along the way.
New Content!
Last year we took up beekeeping. We've created a blog about it here: Beemused.
An interview with me was published in the March 2007, wedding-themed issue of The Pulse, a lifestyle and entertainment magazine here in central Massachusetts. I was deeply flattered to be asked, and everyone was so nice! It focused on my wedding ring work, and you can read it here.
I have created a shop on Amazon that focuses on metalsmithing and enameling books and related things.
Check out my metalsmithing blog! In it I write about what I'm working on, and discuss various metals-related topics.
I am currently accepting private students to work with me in my own studio. Possibilities include basic metal fabrication (including incorporating enamels into work), filigree, enameling (especially plique-a-jour and cloissonné), stone-setting, forging, and hydraulic press work. Instruction is individual. Please email me if you're interested.
Teaching background: I taught for several years on the metals faculty at the Worcester Center for Crafts, one of the oldest artisan craft schools in the Northeast. I taught a variety of classes there, from beginning metalsmithing through advanced topics.
Also
I have a number of pieces available in my Etsy store, including enameled Winter Pine and bat earrings and pins. See them here.
And- I've been stalked!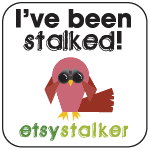 To see my Celtic designs, visit my online store Electric Celt.